Fertilize to Maximize Alfalfa, Forage Crops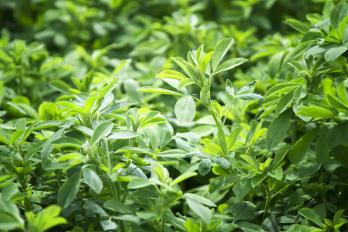 Between heavy winter kill and a cold, wet spring, the alfalfa crops in Federated's service areas have had a tough time of it this year. Maximizing yield takes center stage as the season's first crop is off (or should be) and second crop takes hold.
Because forages – including alfalfa and other hay crops – are important parts of dairy and beef rations, crop quality is vital "to get the most production out of your animals," said Craig Loen, Federated agronomist at the Osceola location. Likewise, crop quantity is important, "since [in many cases this season] we are working with less-than-desirable stands," he added.
"We need to spoon feed the alfalfa-hay crops in order to maximize quality and quantity," Loen said. These crops remove large quantities of nutrients from the soil, and those nutrients need to be replaced.
- Preferably in split applications, apply DAP, Potash, and AMS at rates relative to soil test results.

- Add boron to fertilizer applications at a rate of 3-7 lb./ac.
Some growers, according to Loen, direct seed grass into an alfalfa stand and then fertilize both the grass and the alfalfa.
Soil tests are essential to identify nutrient deficiencies. Re-read the related article in the April 23 Agronomy Update for additional details on nutrient removal and replacement on forage crops.
Looking forward, soil tests should be taken to determine crop needs before planting, and "fall seeding of alfalfa is a good option," said Loen. "Try to have it seeded down by Aug. 10th as a general rule of thumb," he said, adding, "remember that pH needs to be corrected at least two growing seasons before seeding down alfalfa."
"You need to take good care of the [forage] crop that's out there – you can't afford to let it go," Loen said. "Work with your local Federated Agronomist to make sure you have a plan to maximize your high-value crop."