Discovery Plot Days Begin Next Week: August 23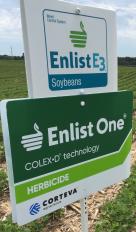 Federated's annual Discovery Plot Days begin next Friday, Aug. 23, in Isanti and continue the following week across Federated's service area. This year's Plot Days include two evening options as well as the usual daytime tours.
Enlist E3™ soybeans and Enlist herbicides, now approved worldwide, are the focus of this year's plots.
"The Enlist system offers a very workable solution for weed control that's easier to manage for the problematic weeds of giant ragweed and waterhemp," said Federated Agronomy Manager Kevin Carlson, adding, "We will take them all the way to yield."
"We also have commercial production [of Enlist seed] out there this year … we are going to get a really good look at Enlist and have a good idea of how it will perform," said Carlson.
Discovery Plot Days will also include:
- discussion about the Enlist system and seed availability/genetics for 2020,

- looks at other hybrids and varieties in the plots,

- info on seed financing (CFA),

- Federated's fall propane dryer gas promotion, and

- Federated's fall fertilizer promotion.
RSVP to your local Federated Agronomist soon. Daytime events begin at 10 a.m. and conclude with lunch. Evening events start with dinner at 5:30 with presentations and plot tours immediately thereafter.
Friday, Aug. 23 - Isanti – Paul & Janet Bostrom Farm
Monday, Aug. 26 - Osceola – Craig, Janet & Neil Gustafson Farm
Tues. Morning, Aug. 27 - Rush City – Craig Mold Farm
Tues. Evening, Aug. 27 - Princeton – Larry Wilhelm Farm
Wed., Aug. 28 - Albertville – Darrell Patnode Farm
Thurs. Morning, Aug. 29 - Ogilvie – Steffen Farms
Thurs. Evening, Aug. 29 - Ogilvie – Doug Lezer Farm (Foley)